Smartsheet v17 Character Sheet (Updated 30. September 2011)
Download v17.1 (5.85 MB)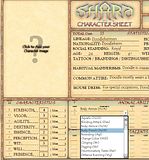 Smartsheet v17 Character Sheet Lite (Updated 30. September 2011)
Download v17.1lite (874 kB)

The
Shard Smartsheet
is a dynamic
.PDF Character Sheet
you can easily fill in on your computer and add your character image (
approx. img size
)! It includes lots of important information and features that will help you through character creation and beyond!
Especially useful when you hold an online campaign, or just dig computer-aided Pen & Paper Gaming!
Please post critique and suggestions in the thread below!
This will be regularily updated so watch here for new versions! :3
Updated v17.1:
- Fixed a spelling error (Thanks Ednoria!)
- Added a light version without fancy background image... reducing the PDF size to 800kB!
Updated v17:
- FINALLY I fixed the inability to overwrite the Ranking of Concealment!
Updated v16:
- Added Tattoos/Brandings/Marks Description
- Added Basic Starting Skill Calculation
- Fixed some wrongly assigned variables
- Location Table now has a Dropdown Menu! Click the text in the upper right corner to open it!
- Animal Abilities & Talents now have Dropdown menues for finding the skill you need real fast!
- Every Skill has it's cost (x/x) added as quickinfo! Just hover over the cost with your mouse!
-
Converted the ENTIRE character sheet into text!
Now the writing is clearer, you can zoom in indefinitely, things are searchable, copy-able, plus some other goodies!

Smarttemplate v4 Animal Template (Updated 25. August 2010)
Download v4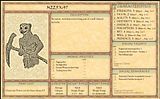 An animal template PDF you can fill in like the smartsheet!
Comes with drowdown menues, infotexts and Basic Compendium page references!
- Widened Weight input for those HUGE and ENORMOUS Zoics out there. ;V
- Fixed various bugs from 3 to 3.2, please update your used version!
Post was edited 99 times, last by "Sherbie" ().