Everyone knows of riveting tales based around the heinous doings of mysterious, wicked cults or the clandestine machinations of secretive organizations!
Groups like these are always are a great way to put an interesting spin on your campaign!
You could have your players fear them, battle them or even join them!
And there are many more possibilities!
Let's use this thread to present our own ideas for such gatherings, may they be evil, acting in the interest of the greater good, or just a mundane club (or is it?).
Ideas & Their Symbols that I post are of course free to use and modify for your own campaign/background story/etc.
Please note if you want others to use your contributions! :)
As an added bonus, if I like your contribution I might make you a snazzy cult symbol! :D
The Sleepers in the Lily Field
(Minor Cult)
The cult was founded 120 years ago by Lüqihan (
Sarpah/Agama
) of the now disbanded House Küglin.
While peacefully dozing after dawn in a beautiful field of
purple monlush lilies
, which they claim are the favorite flower of
Vavi'il
, a local devah of gardening and storytelling (said to be a daughter of Krilárah), he claimed that one of the petite flowers supposedly leaned over and whispered in his ear great wisdom and prophecies of things to come.
Too foolish he was to believe them, but soon was proven wrong by a series of fateful events that the flowers had prophesied him and only because of these foretelling he was able to survive.
In order to honor this mysterious little flower, he began to spread his story, and soon had founded a obscure little following that, as he sadly departed soon after, outlived him for so many years. It is a curious fact that many sleepers don't reach old age. The Sleepers' followers all keep at least one monlush lily in their quarters, sometimes an entire flower bed.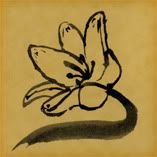 Cult Symbol - A monlush lily
Relations:
- The cult is in harmony with Mahism
- Mahists do not regard this cult as dangerous.
Their Dark Secrets:
- The Monlush Lily nectar attracts the Sheshel Bug, which is a tiny, night-active type of suthra that emits poison spores which have slight psychoactive effects and weaken the immune system.
Watchers of Grey
(Cult)
The Watchers of Grey are a Mahist cult that believes in the dark souls of the three aborted daughters of Amasurah:
Signah
(Darkness),
Muira
(War) and
Lothel
(Death).
These three, the
Daughters of Grey
are prophesized to return to this world in the form of mundane janah, reclaim the power of their dark ancestry and follow through with their mother's dastardly plan.
The cult followers try to hinder these dark spawns of Amasurah from ever returning by murdering newborn girls according to a set of teachings, supposedly handed down by the devah themselves.

Cult Symbol - The Mark of Grey
Relations:
- The cult is not respected by the Mahist community as whole, but has some secret endorsers.
- Mahists regard this cult as very dangerous.
Their Dark Secrets:
- The Watchers of Grey are responsible for many gruesome massacres and assassinations of newborn girls.
- It is said that they have a political agenda.
The Inspired Society
(Group)
A loose collective of renowned
geniuses
all around Dárdünah, who keep in contact to compare their work, collaborate on grand projects and muse about recent going-ons. Their ranks include architects, engineers, poets, historians, mathematicians and many more gifted artisans. To be invited into their group is considered a great honor and only happens to those who can attract their attention with mentionable accomplishments.
Shunned by some as an arrogant clique of eccentrics, members of this group has also been accused of plotting against the interest of their respective nations. In effect, participating in this group is considered illegal in some areas of Dárdünah.
Relations:
- The group has some enemies.
- Several Nations & Religions of Dárdünah are wary of this group.
Their Dark Secrets:
- Despite denying it constantly, the Inspired Society does have an agenda of their own, trying to subtly shape the world according to their ideal.
- They usually outwit their enemies and always have a few backup plans.
Mideastern Antiquarian Community
(Organisation)
WIP
Now is your turn to contribute!
Let your imagination run wild!
Post was edited 13 times, last by "Sherbie" ().